TV documentary, Italian, 25 minutes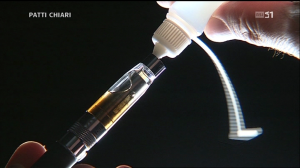 Everything you always wished to know and never dared asking about the electronic cigarette. From its chinese inventor to the business of e-cig aromas, did you know that most of users are heavy smokers trying to quit? An investigative documentary to demistify media reports and public health authorities bizarre assessment.
Tutto quello che avreste sempre voluto sapere, ma non avete mai osato chiedere sul "fumo digitale". Diavoleria o geniale invenzione? Chi la usa, la adora. Le autorità di salute pubblica invitano alla cautela, mentre i media si accaniscono con titoli a tinte forti. E il consumatore non sa che pesci prendere.  Nel mondo 10 milioni di persone utilizzano la e-cigarette e gli analisti finanziari prevedono che in una manciata di anni avrà assestato un bel colpo all'industria del tabacco e ai rimedi per smettere di fumare che si comprano in farmacia. Ma cosa contiene questo bizzarro apparecchio? La scienza che dice, é possibile che sia meno dannosa di una classica sigaretta? Viaggio fra fabbriche cinesi, stabilimenti italiani che producono aromi alimentari, negozianti miracolati e tabagisti folgorati dalla e-sigaretta. Passando per burocrati, medici e scienziati.
di Serena Tinari e Fabio Pellegrinelli. camera Franco Cattaneo, suono Guido Lombardo. montaggio Mauro Filipponi.
Patti Chiari RSI, 17.05.2013 Watch the video.