a journalist call in defense of Julian Assange and the freedom of the press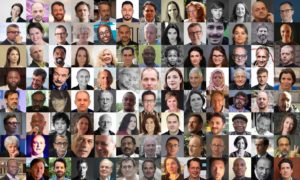 Read the statement, subscribed by many hundreds from 99 countries
Julian Assange, founder and publisher of WikiLeaks, is currently detained in Belmarsh high-security prison in the United Kingdom and faces extradition to the United States and criminal prosecution under the Espionage Act. He risks up to 175 years imprisonment for his part in making public the leak of US military documents from Afghanistan and Iraq, and a trove of US State Department cables. The 'War Diaries' provided evidence that the US Government misled the public about activities in Afghanistan and Iraq and committed war crimes.(…..)
Continue reading (in 8 languages).
Watch the video.
if you work in a journalism-related role*
*journalists, journalism organizations, columnists/commentators, ed
itors, photographers, cameramen and camerawomen, media producers and publishers, documentary filmmakers, whistleblowers, journalism professors/trainers or academics researching journalism and media, representatives of journalism organizations including journalists' trade unions, and NGOs which defend press freedom, and work in defence of whistleblowers, digital rights and transparency*
E-mail: contact (at) speak-up-for-assange.org
Hashtag: #JournalistsSpeakUpForAssange
————————————————————————————————————————
Along with Catherine Riva, I co-founded a nonprofit organization for
---
My currently on-going investigation has been recognized with the 2016 Media Promotion Prize,
an award for scientific value and public interest by the Swiss Academy of Medical Sciences.
————————————————————————————————————————
Just married! investigativ.ch and swissinvestigations.net got together. Finally the Swiss investigative journalists have a common house, regardless of the language they speak.
Have a look at our work: click here.
————————————————————————————————————————