A 56 Minutes long investigative documentary, shot in Japan, Italy, England and Switzerland, tracks back the success story of Tamiflu, the drug governments have stockpiled to get ready for a pandemic. It also reveals the serious doubts as to the drug effectiveness and safety circulating in the scientific community. An affair of our days on public health, transparency and side-effects.
Un documentario d'inchiesta girato fra Giappone, Italia, Inghilterra e Svizzera ricostruisce l'avventurosa storia del Tamiflu, il farmaco che tutti i governi hanno accatastato per proteggere la popolazione dalle Pandemie. E racconta i dubbi sulla sua efficacia e sicurezza. Una storia di salute pubblica, trasparenza ed effetti indesiderati.
A crossborder investigation by Falò RSI , Rundschau SRF, CBC/Radio-Canada, NPR. At the 2011 Global Conference of Investigative Journalism, our project was awarded by Daniel Pearl Awards 2011, Special Citation and a Certificate of Recognition for Outstanding International Investigating Reporting and was shortcut for the IRE Awards. A project with Fréderic Zalac (CBC), Sandra Bartlett and Susanne Reber  (NPR), Harry Häner (RSI) and Reto Padrutt (SRF). ut: Gerardo Wuthier. Camera: Angela Meschini, Harry Häner. Sound: Lilly Gurzeler, Diether Hell. Grafica Erika Bardakci. With Carlo Zoppi, Nicole Hayoz, Igor Hammer, Elena Luzio, Ayumi Kodama, Mari Yamauchi Neuenschwander.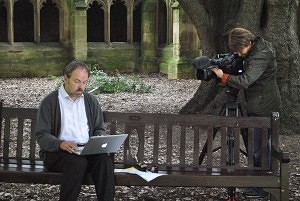 2009-2010: Investigating the swine flu pandemic :
auf Deutsch: Rundschau SRF Geschäft mit der Schweinegrippe
in Italiano: Falò RSI Il fantasma della pandemia