T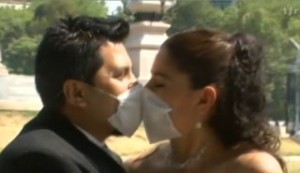 he phantom of pandemics, an investigative reporting for the Swiss public broadcaster. I have been digging deep on biomedical literature, statistics, industry contracts for the pandemic vaccines and much more. It was on Swiss TV in Italian, French and German, 2010.
Pandemia suina, uno spettro che  ha preoccupato il mondo. Le previsioni dei catastrofisti non si sono realizzate: il pianeta l'ha vissuta come una comune Influenza. Gli Stati hanno acquistato milioni di dosi di vaccino pandemico, rimaste per lo più inutilizzate. L'hanno fatto su indicazione dell'OMS. Al Consiglio d'Europa, la Commissione Sanità accusa l'OMS di avere creato una "falsa pandemia", un business miliardario. L'OMS si è fatta condizionare dall'industria farmaceutica?
Im Juni 2009 erklärte die Weltgesundheitsorganisation WHO die Schweinegrippe zur Pandemie und trat damit hektische Aktivitäten los: Allein die Schweiz bestellte 13 Millionen Impfdosen. Die Pharmaindustrie verbuchte gewaltige Gewinne mit einer Katastrophe, die niemals stattfand. Steckt die WHO mit der Industrie unter einer Decke? Fast unbemerkt von der Öffentlichkeit ging der Europarat dieser Frage nach – mit aufrüttelnden Ergebnissen.
di Serena Tinari. montaggio Adrian Perez. Adattamento in lingua tedesca a cura di Reto Padrutt.
Il fantasma della pandemia, Falò RSI, Italian, 26 minutes, 25.02.2010.
Grippe H1N1: les experts de l'OMS en question, Mise au Point RTS, French, 10 minutes, 31.03.2010, Watch the video
Geschäft mit Schweinegrippe, Rundschau SRF, German, 07.04.2010, Watch the video