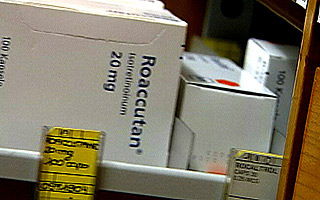 A powerful acne medication, that has at least 150 serious side effects. I came along its story in 2005, by researching for my long feature documentary about drug safety regulation. There we featured for the first time the story of Liam Grant, a courageous father fighting in the name of his son. After the broadcast, we received hundreds of letters of families, patients having had bad experiences with the drug. We kept digging and confronting the company that have been marketing it, the Swiss giant Roche, and the regulatory authorities. These stories have been broadcast in several languages, in English a transcript is available.
In collegamento con il farmaco anti-acne Roaccutan (isotretinoina), all'Organizzazione Mondiale della Sanità sono stati segnalati: 2000 casi di depressione, un migliaio fra suicidi tentati e riusciti – e oltre 6000 disturbi a carico della psiche. Casi  che secondo le autorità americane andrebbero moltiplicati per cento – perché solo l'1 per cento degli effetti collaterali provocati dai farmaci viene segnalato. Stando ai dati, il Roaccutan starebbe provocando una strage. A Falò i risultati sconvolgenti degli ultimi studi sul farmaco e la denuncia di un caso di suicidio, verificatosi durante la sperimentazione del farmaco, eppure mai riportato in letteratura scientifica. Stati Uniti, Irlanda, Svizzera: parlano vittime e avvocati, scienziati e autorità. Grande assente, la multinazionale svizzera: sul caso Roaccutan, Roche non rilascia interviste.
di Serena Tinari e Harry Häner. camera Tristano Montorfani, Angela Meschini, Filippo Pedrozzi, Nicola Viglezio. montaggio Mauro Triani. sonorizzazione: Andrea Belloni. ha collaborato: Barbara Jenni.
Swissmedic: l'insicurezza dei farmaci, Falò RSI, 01.12.2005
Post Scriptum: Roaccutan, Falò RSI, 20.04.2006
Morire per la pelle, Italian, Falò RSI, 09.11.2006. Read transcript in English
Gefährliche Nebenwirkungen, German, Rundschau SRF, 15.11.2006 Watch the video
Mourir pour quelques boutons, French, 36.9 RTS 28.03.2007 Watch the video 
Pillole amare, Italian, Falò RSI 20.12.2007
Article in French, Un médicament contre l'acné accusé de créer des états dépressifs, Largeur.com
Article in French, "C'est un scandale aussi gros que le Mediator", France soir